Ah, how I love springtime! A time of refreshing, a time of warmer temperatures and more being outside, a time of.....BASEBALL! This year, for the first year ever, BOTH of my little guys are in Little League. Aaron has been dragged to every practice and has watched his big brother play in every one of his games for going on 5 seasons now. He has patiently (okay, maybe not-so-patiently) watched and longed to get out on that field himself one day and be a part of a team. That day happened today. :) My little guy had his first t-ball practice for HIS team today, and he couldn't have been more excited!
Aaron will be playing on the Phillies, with my hubby being his coach. We have a great group of little guys on the team...even one that I got to teach in my first preschool class. So cute!
Evan will be playing on the Angels. This boy is CAHH-RAZZZZY about baseball. He has baseball cards ALL over every room in the house, we redid his whole room in baseball stuff for Christmas, and he knows the stats of every player better than anyone I've ever known. He loves it...eats it up. His 2 best friends from his homeroom at school are on his team this year, and he is thrilled about that.
So...needless to say, baseball season is in full effect in this household. We've been watching our Texas Rangers play in the Spring Training games, and we are ready to go to a game!
And speaking of baseball...I have GOT to get some of last season's pics scrapped and into albums! Or I may just make another mini photobook like I did one year through Shutterfly. Hmmmm....decisions, decisions.
I do know, however, that I desperately want the new
Jillibean Soup Game Day Chili
kit!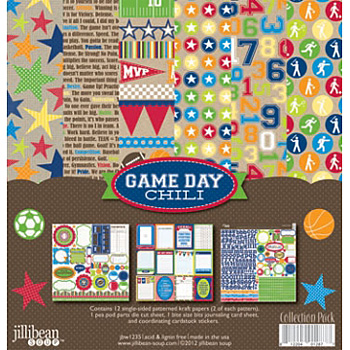 I plan on buying this and using up every single bit of it. With 2 boys in baseball now, it shouldn't be hard to do!