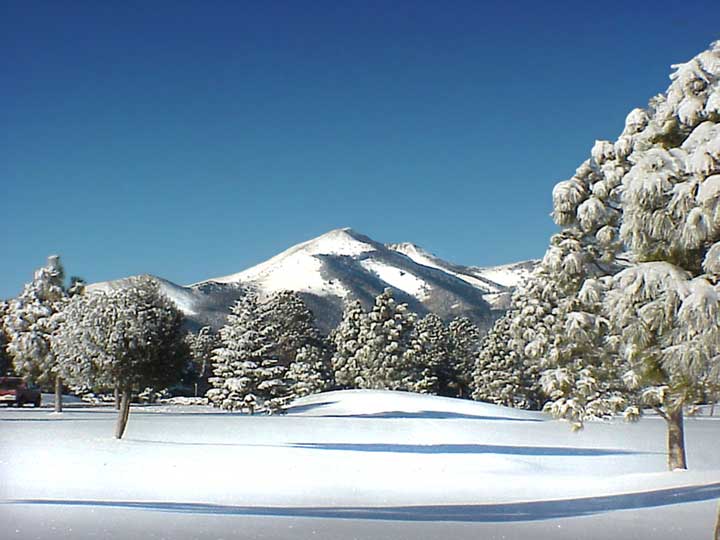 To Ruidoso, New Mexico we go!
Or so I hope.
This trip has been planned since before Christmas. My aunt, uncle, their baby, my sister, brother-in-law, niece, nephew, mom, dad, sister, sister's boyfriend, hubby, the boys, and I all planned on a wonderful little after-Christmas getaway to the mountains together. The kids have Friday and Monday off from school, so it's a perfect long weekend time for a little trip. Wonderful little mountain tourist town with great little shops downtown....big 2-story house for us all to snuggle in as we watch the snow fall beautifully on the pine trees outside....pure bliss.
Well, over the course of the last week, the following has happened:
-Mom and dad backed out of going for various reasons.
-My younger sister's boyfriend got hit with a stomach bug today, and now she thinks she has it too....so they aren't going.
-Bad weather and icy conditions may cause my aunt, uncle, and cousin to delay their flight.
-The town where we are going is supposed to get snow in the morning...so no telling what the road conditions will be like as we travel the 7 hours or so it takes to get there by car.
-My youngest started running fever today and is now super congested.
Lovely, right?
So, I've definitely learned that nothing
EVER
goes as planned.
EVER.
What do we do about that? Just go with the flow, I suppose, and hope for the best.
A part of me wants to just cancel the whole thing and stay home, but another part of me tells me to go and enjoy some much-needed away time with my family. I think I would really regret it if I didn't go and make these memories with them.
So, we are taking an unexpected detour on our route to New Mexico tomorrow and heading to the pediatrician's office first, which is about an hour away from home. Gonna get Aaron checked out and make sure he is okay. If he has something really bad, we will head back home. If it's just an ear infection or cold, we will hopefully get a prescription and then continue on our way to New Mexico.
Is this how I pictured things happening for us this weekend? Not at all. Am I looking forward to the 7+ hour drive? Heck no. Is my baby okay, and is he gonna get over these symptoms quickly? God, I hope so. Do I think the memories and time spent together will be worth all of this? Absolutely.